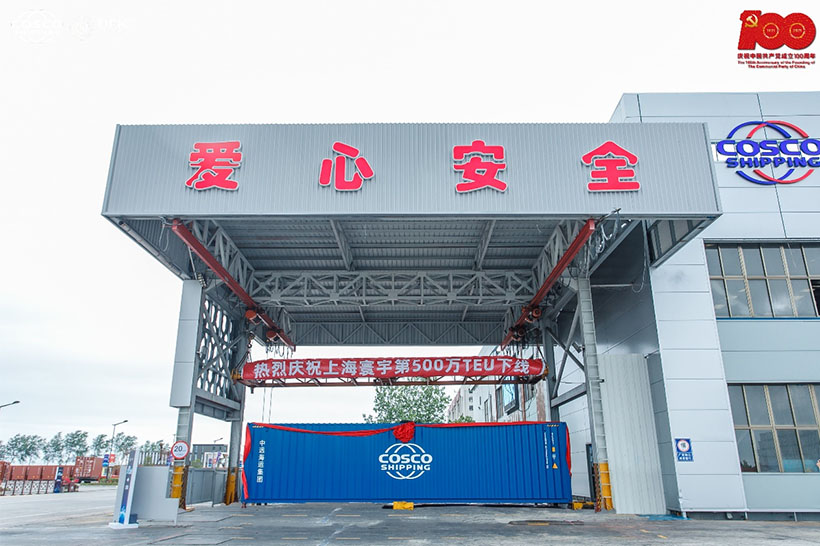 DFIC holds an offline ceremony for the production of the 500,0000th TEU container. At 13:58, June 2nd, the 500,0000th container produced by DFIC came off the assembly line at Qidong Container Factory.
Leaders from COSCO Shipping Development Co., Ltd and the Qidong municipal government attended the offline ceremony. Relevant officers, clients and suppliers, leaders and staff representatives from associate organizations of DFIC as well as reporters witnessed this historic moment on the spot together.
The first container factory of DFIC was set up in Lianyungang, Jiangsu Province in 2005. Later, through the acquisition project of container assets implemented by COSCO Shipping Finance Holding Co., Ltd., DFIC was entrusted with three more container plants respectively located in Qingdao, Qidong and Ningbo. The company has enhanced R&D capability and innovation, further ensured the supply of containers for foreign trade export and its own main business and remained committed to the mission of China's maritime dream.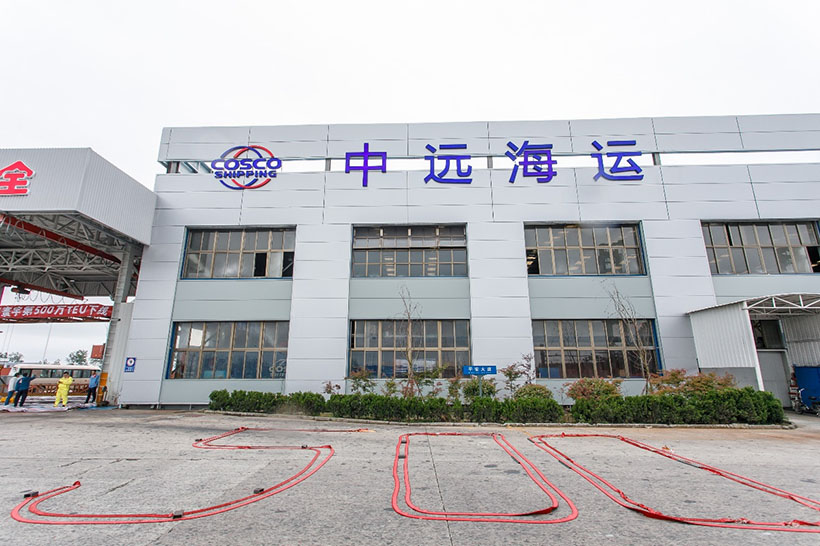 Sixteen years have seen DFIC brave winds and waves to score remarkable achievements and make tremendous breakthroughs. With advanced management and excellent corporate culture, DFIC is able to inspire all its staff to contribute their wisdom to the making of the company's excellence. On Aug. 16th, 2005, the first container came off the assembly line in Lianyungang. Six years after that, on July 22nd, 2011, the factory in Lianyungang also saw the 100,0000th TEU container offline. Four years later, on Sept. 9th, 2015, came the 200,0000th TEU container in the factory in Jinzhou. Three years after that, on June 7th, 2018, the 300,0000th one made its debut in Guangzhou's container factory. Nowadays, on June 2nd, 2021, the 500,0000th TEU container came offline at Qidong factory. All these achievements show that China's manufacturing is heading toward high quality at a fast speed.
Over the decades, DFIC have adhered to the corporate mission of "getting customers' acceptance, making employees feel proud, rewarding shareholders, and being responsible for society", forges ahead with the enterprise spirit of "passion, self-confidence, cooperation and innovation" and stays committed to the development strategy of "three cultures, two drives, one thread"(The "three cultures, two drives, one thread" development strategy means enhancing corporate culture, risk management culture and team culture, following technological equipment driven and R&D innovation driven development, and informationization threaded through the whole process of management.), doing its utmost to make further progress. Since the setup of the first plant, DFIC has gathered strength and confidence to move with the great transition of the era, prepare itself for new changes and confront important events.
Two years after the acquisition project, DFIC is oriented at providing service with concrete actions, making contributions with sincerity and shouldering up its share of responsibilities. In terms of development, it aims to improve its energy level with a new mindset and an innovative way of development. Moreover, DFIC will thrust for excellence and focus on intellectual and scientific development, creating values by hard work and supporting work resumption during the Covid-19 pandemic. The company keeps on improving the quantity of its products and service to fulfil the task of high-quality development.
Coming off the assembly line, the 500,0000th TEU container marks the new start as well as the starting point of a new journey. DFIC will continue this journey towards high-quality development with stronger self-confidence, newer focus, further implementations, and carry on with its missions and responsibilities.