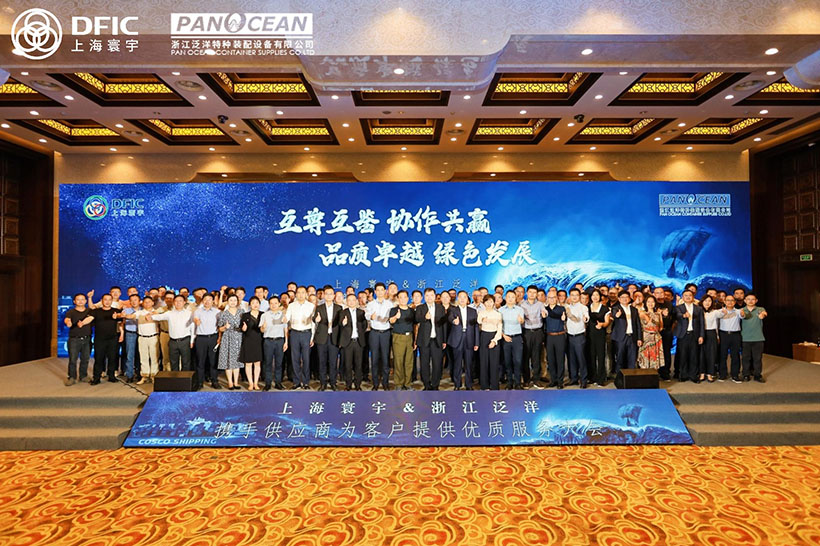 On June 23, DFIC and Pan Ocean held a conference on making joint efforts with suppliers to provide quality service for customers. Liu Chong, Managing Director of COSCO Shipping Development and Chairman of the board of DFIC, attended the conference and gave a speech. Attendees also include leaders and relevant department heads of COSCO Shipping Development, leaders of DFIC headquarters and its subsidiary container plants, leaders of Pan Ocean, customers and supplier representatives.
The theme ofthe conference is "mutual respect and learning, cooperation and mutual benefits, excellent quality and green development", which shows DFIC's original intention and code of conduct. Sticking to the principle of mutual respect, DFIC respects each of its staff and every single partner, which has been entrenched in its culture. Mutual respect constitutes the basis for communication and the prerequisite for win-win cooperation. With mutual respect as consensus, DFIC and Pan Ocean work jointly with their fellow suppliers to learn from each other, share their push for excellence, establish a common goal and forge ahead for win-win results. Meanwhile, DFIC and its fellow suppliers are committed to their customers with good credit, promising to offer quality products and services as their customers require.
DFIC has held conferences on suppliers cooperation for two consecutive years, inviting fellow suppliers to work together for a new atmosphere of "honesty and integrity, excellence and quality, cooperation and win-win achievements". With this sincere relationship established between DFIC and its suppliers for win-win cooperation, the above notions can infuse a refreshed spirit into the solid development of the supply chain. This time, as the conference attended by supply partners as well as customers has been successfully held, it spreads the idea of providing quality products and services for end customers through collaboration of the supply chain. However, quality products not only entail efforts during the production process but also quality raw materials. Thus DFIC and Pan Ocean, working with joint efforts with suppliers, intend to advance quality control to cover earlier parts of the supply chain. This attempt demonstrates DFIC's pursuit for quality, promise for quality and self-confidence in quality, which also represents a deeper exploration towards supply chain collaboration.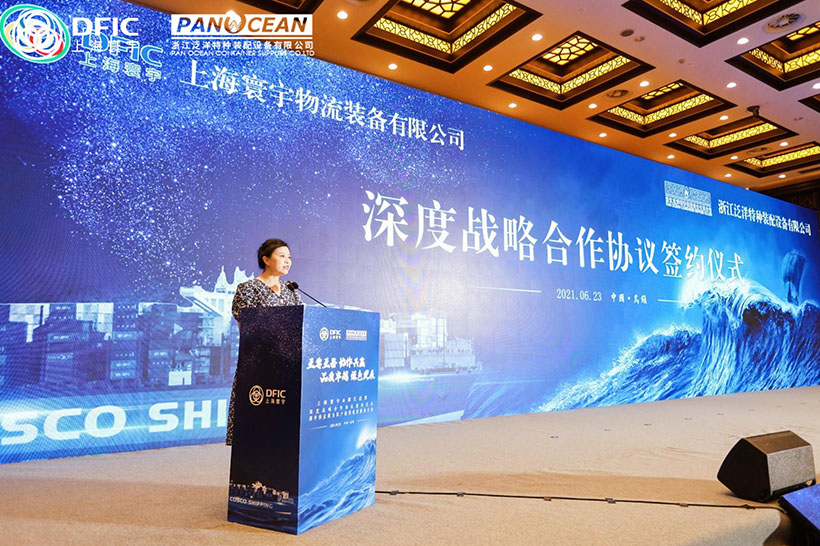 Li Qianmin, General Manager of DFIC, remarked that, confronting the impact of COVID-19 and the uncertainties of the market, we will still cleave to the mission to perfect our container products and shoulder up our responsibilities as state-owned enterprise, supporting the national policies of "six guarantees and six stabilizations", remaining committed to the corporate mission of "getting customers' acceptance, making employees feel proud, rewarding shareholders, and being responsible for the society", and advocating our core values of "integrity, fraternity, excellence and sharing". Following the notion of mutual benefits and development, we are devoted to working together with our fellow partners and friends in different fields who concerns about the sound progress of containers. We will seek to, with support from quality raw material suppliers, provide excellent products and first-rate services, living up to our common values for quality about "promising good credit to our customers and meeting their expectations". Sharing the common mission with the fellow suppliers, we will work to see to it that we could create value, provide services for our customers and gain their recognition, which serves as an acknowledgement of our integrity and the quality of our products. We are proud that we work together to offer quality services for container users and contribute to our society.
Liu Chong, Managing Director of COSCO Shipping Development and Chairman of DFIC, stated that the success in the upper-stream and lower-stream cooperation of the DFIC industrial chain depends on the recognition of cooperation value on "common goal, joint efforts, good collaboration" from the three parties—customers, manufacturers and suppliers. As the saying goes, "with one common goal at heart, all parts could pull together in one direction". With the upright business environment and the quest for excellent quality, a solid foundation is laid for boosting the core competitiveness of DFIC.
To be more specific, "common goal" means the common value and notions in all segments of the industrial chain, which aims at making everyone's own share of contributions to China's container manufacturing and exhibiting the choice goods of China manufacturing. To carry out the notion put forward by DFIC of "making the choicest containers, being the competent container makers", it entails all relevant personnel in all trades making concerted efforts in each of their own sub fields. As for "joint efforts", it means that we should strive hand in hand to enhance the brand strength of DFIC and satisfy the customers.
The key focus of the word "efforts" should be continual improvements in raw materials and final products. Moreover, suppliers should join to build up incorruptible culture, foster risk control and create an enabling and fair environment for business. "Good collaboration" indicates that the upper-stream and lower-stream in the industrial chain is able to share the experience of the other enterprises. Throughout the growth of DFIC over the years, we have always united our suppliers and customers as important strategic partners. As we have also provided an open platform for our fellow partners and services of high quality and competitiveness, we thus attract increasing outstanding partners to join our path.
There goes a saying that "with the same virtue, we unite and with the same aspiration, we advance on the same journey." As DFIC prompts its future development solidly, we will put into effect the key value of this conference, assume our responsibilities and create a brand new future shared by all and guided by green development, shooting unremittingly for higher pursuits. Meanwhile, led by the value of "common goal, joint efforts, good collaboration", DFIC will further expand the platform for cooperation, contributing unwavering efforts to high quality development of China's container manufacturing.